That's right. The old chestnut of, 'oh it's Summer Christmas is aaaAaaaAaaaAaages away'. Well, it's not! Not when you consider that the average family spends around £300 on the seasonal festivities and gifts.
Where will that money come from when the time hits?
How much did you spend last year?Are you still paying it off?
Did you eat or drink everything you bought for Christmas AT Christmas? Or was some still being eaten in January or even February?
Did everyone enjoy their gifts?
Did you charity shop or sell amny of the gifts you got given?
The reason for my post it, if you start planning now both in terms of finances and gifts, you can make Christmas 2013 a much less expensive and more enjoyable experience.
Here are some ideas that might get you started in the thinking-about-it-as-a-minimum-starting-point:
- Start saving now - a regular saver of £30 a month will help massively and be less painful than paying for it all out of November and December wages (and January and February and March....)
- Start collecting ideas - Check out Pinterest and start pinning ideas now that might come in handy - I''m thinking big jars full of goodies like: Christmas flapjacks in one, a 'movie night in' in another (ie popcorn, dvd, chocolate, unusual facts about the actors of the movie), peppermint sugar foot scrub in another (brown sugar, olive oil, peppermint oil, MIX!), a bath salts treat in another (SO easy to make - some bath salts from the £1 store, some aromatherapy oil, mix - DONE!), some vanilla essence in a bottle (250ml vodka, 8 vanilla pods from ebay, split pods, store in cupboard for 5-6 months, shaking gently weekly). I will blog from Summer onwards with ideas to keep you inspired. What about a jar full of homemade laundry powder? Grated soap, some borax, some washing soda crystals, some baking powder, some aromatherapy oils...
This link even has a lovely printable, too cute - see pic below!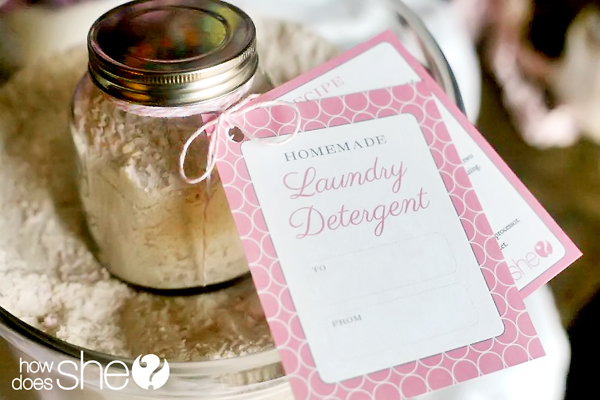 Another would be some homemade eye make up remover (maybe jojoba oil, rose aromatherapy oil. water, witch hazel)
- Make a list - Start adding ideas for presents onto a list. This could be in your diary, on Evernote, on a document on your pc. Just somewhere so you don't forget! I like to take photos when I see a present idea, and Evernote it so I know what to look at around Christmas time.
- Buy now, save later - That's right. How about buying items at boot fairs or on ebay, or making some of the gits now and keeping them to one side? Vanilla essence, laundry powder etc can all be made now.
OK, so that's probably alot to even think about right now.
So how about just two baby steps?
Start a list

Start a regular savings account
Make life easier on yourself - take just these 2 steps now, to save your sanity in 7 months time.
Yes I am mad, but this will hopefully at least get you thinking about the subject and saving your whole family some stress come Christmas time. I will try to think of other ideas as the months go by too so we can all work on it together.
Have a fab week everyone x